Meet the Team
Get to know our Dental Family!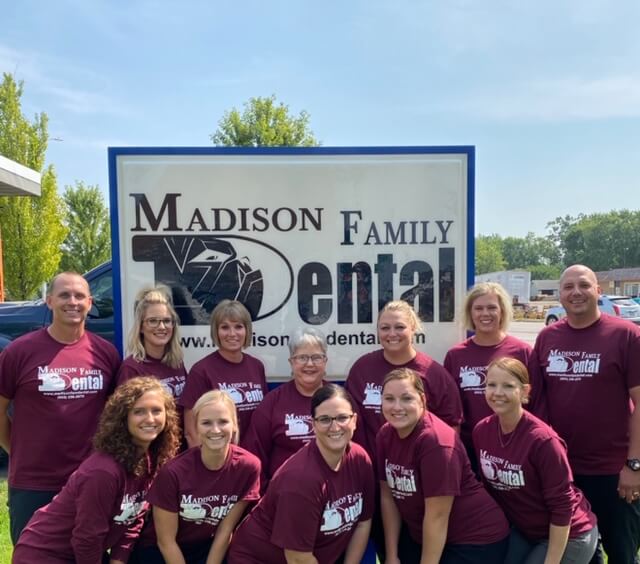 Glynis, Administrative Assistant
Glynis hails from Arlington, South Dakota, and has served the dental profession for over thirty years! After graduating from Madison High School, Glynis continued her education by earning her degree from Lake Area Technical Institute. As an administrative assistant, Glynis schedules appointments, organizes and runs the billing department, and helps patients with their insurance needs.
Glynis is perfect for her career because she's friendly, sociable, and has truly enjoyed working with the many generations that have come to the practice over the years! She likes working for Madison Family Dental because when she started in the dental field, she had to handwrite each bill and insurance claim! Now, she appreciates the updated computer technology and digital radiographs, which makes it easier for her to help the patients.
When she's not at the office, family comes first! Glynis is happily married to her husband, Allen, and they have two beautiful daughters, Erin and Kelli, and two wonderful grandsons. Glynis also likes sewing, crocheting, and rooting for her favorite baseball teams.
Kate, Dental Assistant and Receptionist
Kate was born and raised in Madison, and has been a dental assistant since she earned her degree in Dental Assisting in 1997 from Lake Area Technical Institute. She knows that she's a perfect match for her job, because her compassionate and friendly disposition makes it easy for her to stay wholly dedicated to the profession.
Kate loves Madison Family Dental because each member of the team has an upbeat personality, which makes it fun show up to work every day! She also appreciates the technology that the doctor has integrated into the practice. Kate's day-to-day duties as a dental assistant include scheduling appointments, assisting the doctors, taking x-rays, and ensuring that the practice runs smoothly!
Outside of the office, Kate enjoys spending time with her loving husband and three beautiful children. She likes to read, golf, attend her children's activities, and go camping. Kate also loves taking care of Brittany, the family's loyal dog.
Kathy, Dental Hygienist
Kathy is originally from Custer, South Dakota, and after earning her Bachelor's degree at the University of South Dakota has worked dutifully as a dental assistant. Her role at the practice includes taking x-rays, applying sealants, cleaning teeth, and assisting during gum therapy.
Kathy enjoys helping her patients and loves to see them smile, which she knows makes her a perfect fit for her job. She loves working at Madison Family Dental because the team has a common goal – to give the best patient care possible to everyone. The patients are their first priority.
In her spare time, Kathy enjoys doing all types of physical activity, including running, bicycling, and other outdoor pastimes, like camping and fishing. She adores being a loving mother to her three wonderful daughters.
Kim, Dental Assistant
Kim was raised in Howard, South Dakota, and earned her degree from Lake Area Technical Institute. She's been in the profession for over twenty years, and knows that she's a perfect fit for her job because of her friendly and energetic personality. Kim is very dedicated to helping her patients improve their oral health, and has genuine concern for those in her skilled care.
Kim loves working at Madison Family Dental because she enjoys being a part of a hardworking, fun team. She likes to interact with her patients while she's treating them. As a dental assistant, Kim's daily responsibilities include helping Doctor during procedures, sterilizing all instruments, preparing materials and trays, as well as taking impressions and x-rays.
When Kim isn't staying busy at the office, she enjoys passing the time with her three beautiful daughters. She likes to attend her childrens' events, camp, scrapbook, and hang out with her friends and family.
Samantha, Registered Dental Hygienist
Samantha originally hails from Ethan, where she enjoyed growing up on her family's farm until earning her Bachelor's of Science degree from the University of South Dakota. She's a recent addition to our team, after joining in April of 2013. As a registered dental hygienist, Samantha's job includes taking x-rays, screening her patients for periodontal disease and for oral cancer, cleaning her patients' teeth, educating those in her care on techniques for oral hygiene, and performing scaling and root planing.
Samantha knows that she's a great fit for her role as a hygienist because she has a friendly chairside manner, and is personable, which makes it easy for her to truly care about her patients. She loves working at Madison Family Dental because her coworkers make coming to work a fun and enjoyable experience, and she appreciates the up-to-date technology in the office.
Outside of the practice, Samantha loves being with her family and friends, walking her two lovely dogs, and spending her time outside gardening.